Lagos State Governor, Babajide Sanwo-Olu, inaugurated the maiden edition of the Eko City Farmers Market at the Tafawa Balewa Square, Lagos Island.  The governor, represented by his deputy, Dr. Obafemi Hamzat said the goal was to grow the state's GDP and ensure food security for all Lagosians.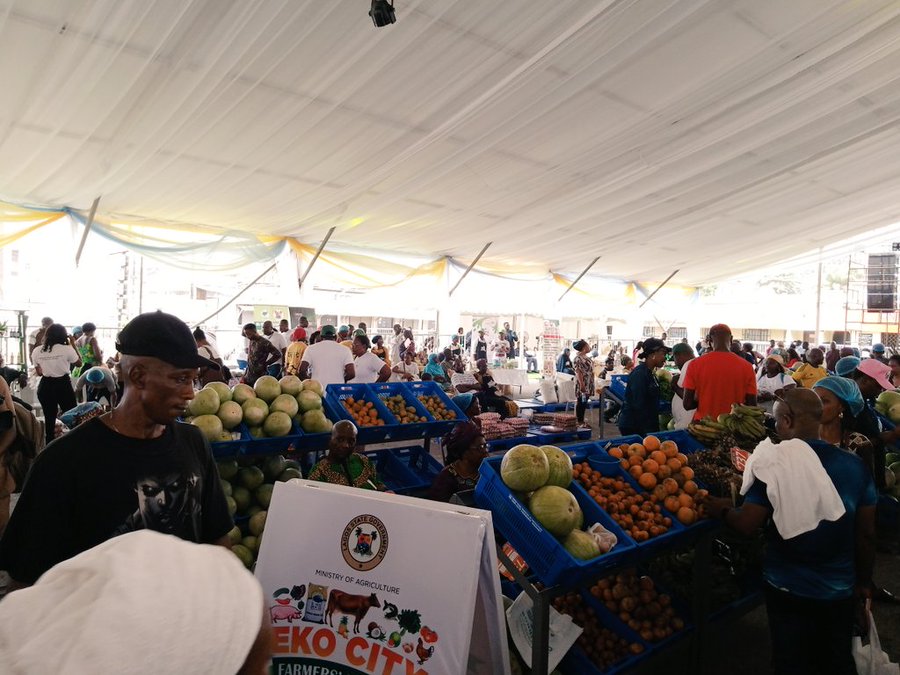 "Agriculture remains one of the main sectors through which we plan to achieve our objective to make Lagos a 21st Century Economy; the main goal in this regard is to ensure food security for the over 22 million people resident in our state. We will also support the establishment and growth of small scale industries in the value chain as well as provide employment for our teeming youths and women, The initiative was designed as a monthly market to be hosted on the last Sunday of every month in order to consistently create an inclusive platform that would cater to the diverse needs of people as well as ensure food security and traceability that meets with international market standards. " Sanwo-Olu said.
Read More – Border Closure: So far, so well
Cellulant's Business Development Manager for the Agric Marketplace, Unini Odiabo, addressed participants and spoke on Agrikore as the technology transforming agriculture in Africa.
That point when Unini was telling the Deputy Gov Lagos State @drobafemihamzat all about the Brand & most importantly how Lagos Connect To Work will be creating employment for thousands of Lagos youth by Connecting them to various jobs within Agric Market place @BolajiAkinboro pic.twitter.com/bMAyDeBpZK

— cellulantng (@cellulantNG) February 24, 2020
"Agrikore provides the platform which farmers, logistics companies, wholesalers, community aggregators, and others come aboard and carry out end to end transactions from the farmers to the consumers. It enables aggregators to organise farm produce, farmers to focus on farming while the community aggregators ensure logistics companies can pick up the produce. They also ensure they are transported conveniently and that farmers receive fair value for their crops. This helps make everyone in the Agric value chain to focus and perform their task optimally, ensuring value is created''. Unini said as she welcomed the deputy Governor, Dr. Obafemi Hamzat to the Cellulant booth.
Read More – PICTURES: Cellulant launches "Connect to work" initiative  
Agrikore promotes accountability and sustenance by helping everyone in the Agric value chain to focus and perform their task optimally, ensuring value. Farmers, food processors, governments, logistics companies can relate to each other adequately.
Cellulant is committed to raising skilled and employable youths with the "Connect to Work" initiative. Connect to work was inaugurated in Kano and has empowered thousands of youths and students in Jigawa, Oyo and Ogun states.
Sign up to get connected a world of limitless possibilities by clicking https://cellulant.com.ng/connect2work/
See more photos from the event below.
From the maiden edition of Eko-City Farmers' Market@cellulantNG @AgrikoreNg @Sterling_Bankng pic.twitter.com/Pnq0Vwp2HB

— LASGAgribusiness (@LASGAgribusine1) February 23, 2020